RJ-22 (pin) used in telephone handset
RJ-50 10P10C (also known as RJ45 10 pin)
(source: altex.com)
RJ48 configured as 8P8C (same connector as RJ45 but different pinout)
RJ48C is commonly used for T1 lines and uses pins 1, 2, 4 and 5.
RJ48X is a variation of RJ48C that contains shorting blocks in the jack so that a loopback is created for troubleshooting.
RJ48S is typically used for local area data channels/subrate digital services, and carries one or two lines. It uses a keyed variety of the 8P8C modular connector.
RJ48 connectors are fastened to STP (Shielded Twisted Pair) cables, not the standard UTP (Unshielded Twisted Pair) CAT-(1-5).
(sources: http://images.absoluteastronomy.com and http://en.wikipedia.org)
RJ-45 (8 pin) relatively uncommon but available in 10 pin
(source: http://upload.wikimedia.org)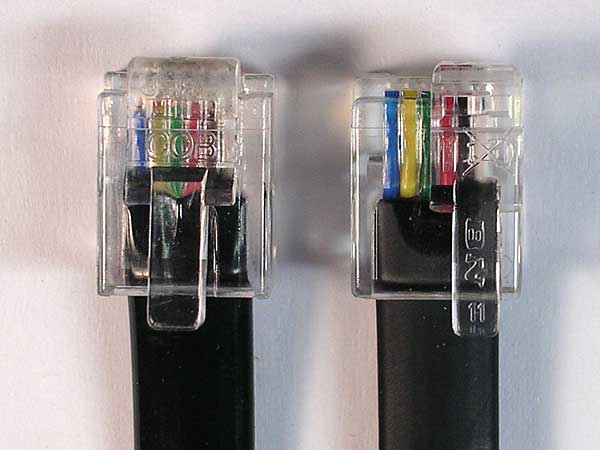 RJ-12 (6 pin or 6 pin Keyed)
(Source: http://www.philohome.com/)
RJ-11 (originally 4, today mainly 6 pin)
(source: http://upload.wikimedia.org)
RJ-21 conenctor or "Champ" connector or "Amphenol" connector (referencing the connector manufacturers)
(source: http://upload.wikimedia.org)